For your next Adult or Child's Birthday Party or small event, family gathering or little get together, etc., why not have some awesome magical enertainment. It will incorporate fun for the birthday child/Adult and a lifetime of memories for the whole family.


YES< I DO TONS OF ADULT B'DAY PARTIES AS WELL!!!

Featuring Magic, Mime & Comedy Shows for ALL Birthfday events.
"Making your Childs event an unforgettable experience"
What you get in the Birthday Party Show (for kids and adults)
Professional high quality magical entertainment, and performance!
Birthday Shows can be from 30,45 & 60 min, depending on the pachage.
This is 1st rate professional magic, not the simple goofy stuff the clowns do!
My shows are non-age specific, which means, fun for everyone! So, if your event is for the family, then they will also enjoy it. Adults and kids love it!!!
There is tons and tons of audience participation, and the Birthday child will be involved throughout the show.
The Birthday Child (or adult) with recieve a special Certificate of Participation at the end of the show. Geared towards the age of the person.
Photos will be taken with the birthday adult/shild & printed right on the spot
The Birthday child gets a free Jack Julius T-shirt with the "Large" Birthday Package.
Jack Julius T-shirts are discounted in the Medium Show.
Add an Illusion to the show!!!
Depending on the Birthday package, you may also add a high quality Illusion ( Like the Metamorphosis - A Houdini escape) to it as well for a small additional fee which covers having another person (my beautiful wife) perform in the show. The illusion has to be brought in a trailer for transport.
Here is The Metamorphsis Illusion we often perform at B'day Party shows as well CLick HERE! (Click on the Metamorphosis)
Does your child like HARRY POTTER? For an additional Small Fee (Free with the large b'day show) have your child wear a Harry Potter outfit for the show! You child will fee like that can do magic. I will take photos of them and print then right on the spot!





The type of Birthday Show and performance depend on the type of event and it's venue, which will depend on what can be performed. In most cases, at home a stage styled show is fine. Shows can be performed at home, a community ceter or hall. Just tell me what the event is, what it's about and what space I have to work with. I pretty much conform to any environment and can help you with your decision.
I also will have a Curtain Set-up and Sound System or (Boom Box).
There are three Awesome Birthday Show Packages to choose from!
Show Prices Page to get an Idea of the packages Click HERE!
If you would like your party or show to be videotaped, please let me know.
Get Jack Julius T-Shirts Instead of Goody bags - healthier for th kids teeth :o) and I can even sign the T-shirts. They are 100% cotton and last a long time. If you order through me, I can get you a much better discount that on my web site if you buy in bulk. Kids & Adults love 'em!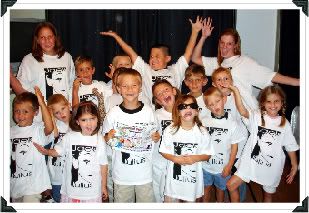 I can even TEACH a MAGIC TRICK or Two at the end of the show (additional costs will apply) generally this is for kids 7 and up.
WANT TO KEEP IT SIMPLE?? Small Budget?? DO A "BIRTHDAY GRAM!"
A "Birthday Gram" or "Magic Gram" is like a singing Tele-gram but with magic (or mime) added to it! It's tons of fun for a co-worker, friend, loved one, office surprise, anniversary, Birthday, and any celebration you can think of!!
Prices are from $125 to $185 (gas/travel fees may apply)
Grams are about 20 to 30 min. Sometimes longer if we are having Too much fun!
We sing Happy Birthday and present a card, and cupcake with 1 candle
Card are personalized for each person and event!
Banners can also be made to order and personalized (aditional cost)
There are adult Birthday grams that are fun for all adult events (call me!)
We also take photos and print them at the end of the gram.
We can do video and put it on a DVD right on the spot as well (aditional fee).
Surprise your mom, dad, sister, brother, family member, co-worker, neighbor, boss or anyone with a MAGIC GRAM or Birthday GRAM!


Want to make your next Birthday Party or Family Event a hit to remember?
Click Here to check out my on-line store for all your Party and Event Supplies.

Close-Up Magic and Strolling For Adult birthday Parties, Family Gatherings & Events
Close- is great because I can get up close and people can experience mage 1st hand. I ofter do a little close strolling magic and mingle and do a larger show for the whole group later.
Close-up magic involves cards, coins, money, ropes, balls, sponges and many small items someone may carry with them.
Can be performed anywhere for small groups of 2 to 8 people

If you have it at a restaurant, magic is the perfect atmosphere setter

Close-up is perfect for family gatherings where they mingle

Close-up magic is great for holiday parties as a warm up to a show
Close-up magic makes people feel more a part of the magic
Close-up is great for any occasion or event without a stage
Close-up can be performed in small areas
For an idea of price packages Click Here For Prices on Strolling
I Can Teach The Kids Magic!

"For an additional charge I can also TEACH the kids some magic!!"
For the "Goody-Bags" add a few magic tricks that the kids can learn at the end of the show!
I can spend about 15 to 20 min extra time teaching the trick or tricks if more are purchased.
Cost for the teaching is $ 50 to $100 extra dependning on how long and how many tricks I will teach. Also, if you purchase a "Large" Birthday Show I will reduce the rates! :o)
Cost for the tricks can be from $1 to $5 per trick (or prop).
Other Types of Entertainment or Services for family events
Mime - Mime shows and strolling
Mime can be mixed with magic
I can meet & greet people coming into a party as a "Robot" or mime.
I can also Video tape or Photograph the event and put in on a DVD with soundtrack and other special affects added to make a into a special gift or keepsake.
If it's not listed here, there may be other things I can do, just ask!

Click Here Links:
To Fill out the Birthday Show Booking form and provide me with all the info for your upcoming event! Please be as detailed as possible when filling out the form. To go to the Prices Page Click HERE!
Click here to view the The Certificates Page
Click here for The Party Planning Page






---
Here is a little info for you when making an announcement or advertising.
Bio for Advertising
Rekindling an old childhood passion, Jack Julius has been intimately involved with magic & theater since 1974 performing his first professional show at the age of twelve and later incorporated the visual art of Mime to complete his unique performance style. He has taught Mime and hip-hop for the MD Council of Dance as well as other prominent organizations. Jack has written, directed and produced several plays which incorporated all these skills and sold out to rave reviews. Over these years Mr. Julius has had countless performances for schools, birthday parties, private clients as well as some of the largest corporate and well know clients in and out of the country, including BGE, MD Council of Dance, The BSO-Baltimore Symphony Orchestra, Yokahama Convention Center of Japan, US Nuclear Regulatory Commission, Department of Energy, Pepsi Cola Co, Northrop Grumman Corporation, Pillsbury, MD,Dept. Of Transportation and the White House, to name a few.
Jack's magical style is unique and without question one that leaves his audiences spellbound. Always humorous and guaranteed to please. His performance with the audience is very playful and interactive and involves many participants from the crowd to thrill and entertain as they experience magic first hand. Jack's mime skills are unmatched and inter-weaved throughout the show to give variety and a visual treat for all ages.
Jack Julius is available to perform a variety of magic & Mime shows for all occasions and cultural groups from children's birthday parties, family gatherings, church events to large corporate events, from close-up magic, street and or parlor to stage illusions. Whatever the occasion, the magic and mime of Jack Julius will make your event and unforgettable and fun experience.