---
Contributed by:
Nicole N. Middendorf, Financial Advisor
 
763-208-0482
Strategic Financial Group
3030 County Road 101
Plymouth, MN 55447
TO CONTACT NICOLE MIDDENDORF E-Mail
Nicole@thestrategicfinancialgroup.com
---
Women live longer, statistically make less money, have a higher cost of living and sacrifice money going into social security and retirement to stay at home to raise a family. Because of all these factors especially need to prepare for the future and achieve financial independence.
Following are six important things women should about money:
Educate Yourself. Take time to attend seminars on money and investing. Learn what assets are and how they work. Use this educational time to then relate it to your own financial situation.
There are basically three types of investments: stocks, bonds and cash. What is a stock? A stock is a share of ownership in a corporation. What is a bond? Think of a bond like a loan. You take your money, loan it out somewhere and in a number of years you get your money back plus interest. There are two basic types of bonds: Corporate Bonds and Municipal Bonds. Corporate bonds are loans to a corporation and municipal bonds are loans to the government, county or school district. What is cash? Cash is liquid money. Cash is your money in a money market, savings account and in your purse.
Create an "Emergency Fund". This money is for unexpected events that tap your pocket book. For example, if you lose your job, you will need money to pay the mortgage and monthly bills until you are able to replace that income. Or, if there is a car accident, you will need liquid dollars to cover car repair, and medical expenses.
Know the Rule of 72.The Rule of 72 is a simple formula that helps you understand how fast money grows and how assets appreciate. If you divide 72 by the interest rate that you are earning on your money, you will find out how many years it takes for your money to double. Over the last sixty years, on average the stock market has produced a return of 11.7%. If you round that up to twelve percent and plug it into the formula, you find that your money should be doubling every six years.
If going through a divorce understand 72(t)(2)c. This is the tax code that allows someone going through the divorce process to receive assets from their spouse's 401(k) plan as cash and escape the ten percent penalty. You will still have to pay taxes on the money, but will not have to pay the ten percent penalty. This is one way spouses can get liquid money if there is no better option out of the divorce.
Mars vs. Venus. Understand that men and women are different in how they use money, how they feel about money and how they communicate about money. The way we were raised as children typically influences how we spend and save money.
In most relationships one partner will be the spender and one will be a saver. Understand the differences of each and take the positives of both personalities to make the most out of your money and your relationship.
Set time aside once a month to have a "money date". Use this time to understand and appreciate how you and your spouse view money. Discuss your monthly spending and saving. Review your goals, dreams and desires for your financial plan.
Buy assets that produce income. Examples of these assets include businesses, rental property and some bonds. Buy assets that produce cash flow, but do not require that you manage on a daily basis. This can help you build and preserve your wealth. 
Wisconsin Divorce
Wisconsin Divorce Issues


Minnesota Divorce Issues 

Divorce Bulletin Board
Ask a question or review postings on our Family Law Bulletin Board

Divorce Forms
A comprehensive listing of divorce and divorce related forms for all states

Divorce Book Store
Review Books on Winning Custody, Child Support, Property

Divorce Links
Review links to Divorce and Family Law Resources including Men's and Women's Rights

 Career Center: Find a job or post a job. Prepare a resume or have yours reviewed.


After divorce refinance your home, repair credit, acquire a credit report or apply for a credit card in our Financial Center. Click Here.

Business Links
Find a Minnesota business or a Minnesota business professional including business appraisers, real estate appraisers, and mortgage brokers. Click Here.

 
SaveThe Marriage:  An E-Book Download  by Lee Baucom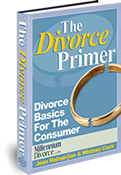 The Divorce Primer provides you with a single information source on Divorce and Separation issues in an easy-to-read plain English format. Information is power. Answer your questions and explore your options before you decide what you want. Do you really want a divorce?  What about a separation?  Do you want to try mediation or do you want to start with an attorney and the courtroom.